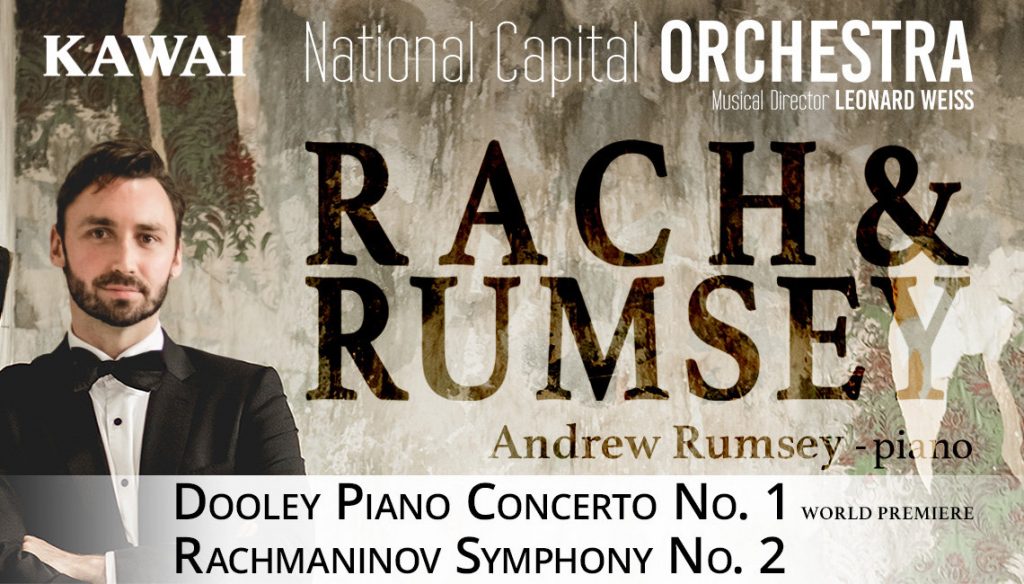 At the Q, Queanbeyan
Hear the world premiere of Michael Dooley's Piano Concerto no. 1 performed by acclaimed pianist Andrew Rumsey. The lyrical touches of Dooley's concerto are testament to his place as one of Australia's finest composers. Don't miss the opportunity to experience the inaugural performance of this masterpiece, on a magnificent 9ft grand piano, courtesy of Kawai Australia, after a pre-concert talk with the composer commencing at 2:15pm.
Rumsey makes a very welcome return performing with the National Capital Orchestra, after his last NCO performance in 2015. He has continued to be praised as one of Australia's greatest concert pianists, having made his Carnegie Hall debut in 2017 as part of a USA/Canada tour promoting Australian music.
Following this exciting world premiere by an incomparable soloist, you will delight in Rachmaninov's romantic Symphony No. 2. One of the most popular late romantic symphonies, this music juggles an intensely passionate character with the light-heartedness of ballet – a truly pioneering piece that is often acclaimed as one of the greatest symphonies composed last century. Conducted by Musical Director Leonard Weiss, you won't want to miss this highlight of the National Capital Orchestra's 2019 Concert Series!
Guest Conductors
Would you like to conduct the NCO? We are inviting expressions of interest from suitably qualified musicians. Details are available here.